The Most Loaded Linux Audio Desktop Competition
This is a little competition to see who can come up with the most heavily loaded and cough cough cluttered cough cough cough... ahem, well laid out desktop screenshot while running Linux Audio Applications.
Rules
The most popular will be given top spot on the LAU Guide.
All submissions will be presented as the next Quicktoot.
There is no size restriction.
Video/animation/flash and audio examples will also be accepted.
Either post the url to Linux Audio Users mailing list. or send the entries directly to pshirkey at boosthardware dot com.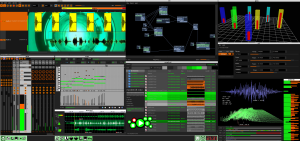 views 11002

Features:
-seq24
-om
-gnusound
-glmix
-sndpeek
-samplecat
-seismix (not released :-()
-xosview
-ion3 window manager
-kde4 taskbar mockup

"The image is a composite, but its nearly all real software, even if some of it is unstable..."
views 5327
Heavily loaded with many applications running.
views 4672
"These was just a session to show how fancy puredata (here: netpd) can be. But sometimes in liveacts, jamsessions i have loaded so many 'patches', but sure I don't have visualized so many... "
views 3711
Ardour and associated applications in action.
views 3175
FILE: screenshot.ogg
"Normally all the apps are dispatched on my 4 desktops, but I've joined all in one for the screenshot."

jackd
qjackctl
ecasound
seq24
zynaddsubfx
zynaddsubfx
zynaddsubfx
hydrogen
terminatorx (in action)
timemachine
an xterm with gimp beeing compiled
=> zero xruns

views 3025
"It's not really that cluttered, but here's a grab of my desktop when I was playing around with Freewheeling and Ninjam (which is, incidentally, both incredibly cool and an extremely dangerous spare time sink) earlier this evening."
"You should be able to see qjackctl, cninjam, fluidsynth, jack-rack, hydrogen, meterbridge and fwheelin -- and all of them (except for the second jack-rack, since I'm playing keyboard rather than bass at that point) are in use."